Conductor: Dorian Dimitrov
Having started as a pianist at the age of nine, Bulgarian-British conductor Dorian Dimitrov was awarded a scholarship to study at the Yehudi Menuhin School under Professor Ruth Nye with whom he continued for the duration of his six years at the school. Afterwards, he went on to study at the Guildhall School of Music and Drama with professors Charles Owen and Katya Apekisheva and graduated with Honours.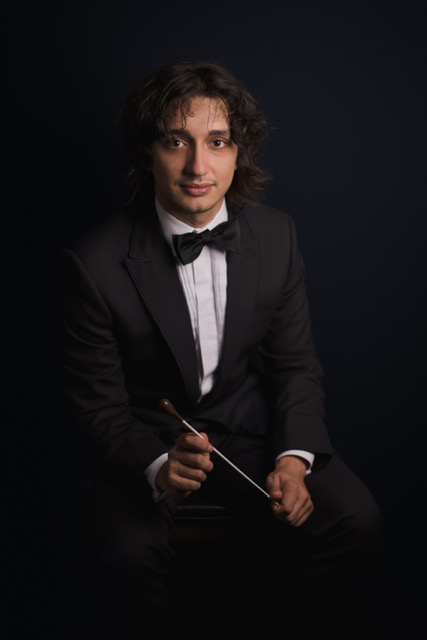 Dorian has appeared in many venues in the United Kingdom and Bulgaria, including the Wigmore Hall, Fairfield Halls, Menuhin Hall, Banqueting House (London), Royal Overseas League (Edinburgh) Perthshire, Festival Hall (Bulgaria) as well as multiple times on Bulgarian National Television and Radio.
During his studies at the Guildhall, Dorian debuted with the Guildhall Concert Orchestra. This ignited the conducting spark that resulted in studying with many acclaimed conductors and pedagogues such as Paavo Järvi, Nicolas Pasquet, Rüdiger Bohn and Jonathan Bloxham. Currently, Dorian is pursuing his studies with Leonid Grin.
In 2014, Dorian was invited by Kristjan Järvi to assist him with the Baltic Sea Philharmonic in Germany. He continues to work with him regularly, which has led to collaborations with orchestras such as the London Symphony Orchestra, MDR Symphony Orchestra (Leipzig), BBC Concert Orchestra and National Youth Orchestra of Great Britain.
During the summer of 2019, Dorian participated in the prestigious Järvi Academy conducting masterclass, which saw him work with renowned conductors Neeme, Paavo, Kristjan Järvi and Leonid Grin. During the masterclass, Dorian was privileged to perform with the Järvi Academy Youth Symphony Orchestra and Järvi Academy Sinfonietta. Dorian has also conducted orchestras including the Haydn Chamber, Harmonia and Orpheus Sinfonia (who appointed him as their assistant) in London as well as the Varna State Orchestra in Bulgaria, and assisted other conductors such as Alondra de la Parra (Hamburg State Philharmonic, Berliner Rundfunk, London Philharmonic), Vlad Conta (Oradea Philharmonic) and Leonid Grin (Orquesta Sinfonica Nacional de Chile). Most recently, he received an invitation by the Royal Liverpool Philharmonic Orchestra to assist the music director, Domingo Hindoyan, in the closing concert of the 2021/2022 season.
Since his first invitation to jump in with the Hounslow Symphony Orchestra in 2019, Dorian has been repeatedly been asked back to guest conduct the
orchestra and in 2023, he was appointed Music Director of the orchestra.
Leader: Nicola Garty
Nicola completed a B.Mus in violin performance at Victoria University of Wellington, New Zealand before winning an ABRSM scholarship to study piano and violin at the Royal Academy of Music in London.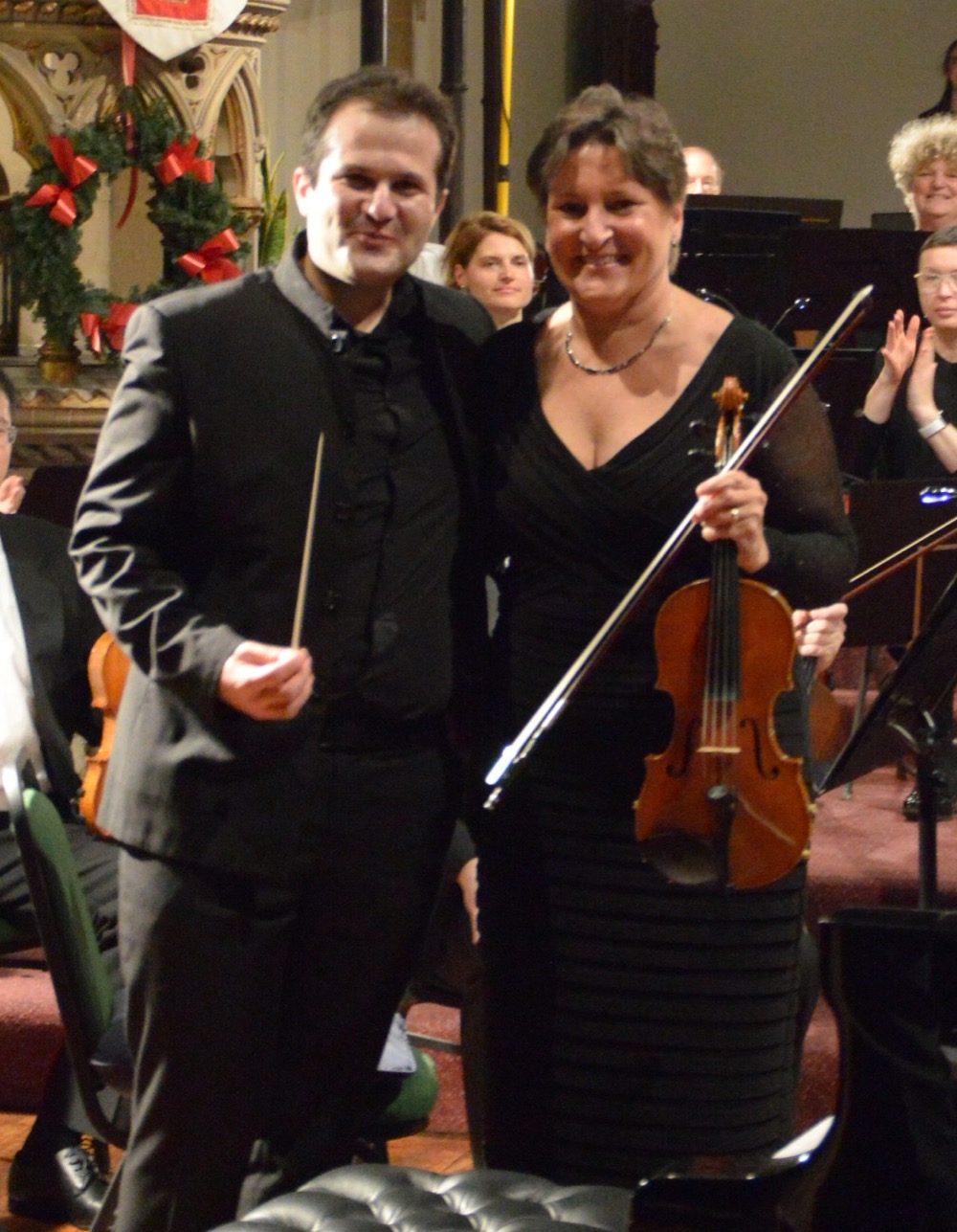 Having gained her LRAM she toured France, Germany and Austria and eventually settled in Italy, where she played in L'Orchestra Lirica Sinfonica del Teatro del Giglio in Lucca for two years. She played in the Puccini Festival at Torre del Lago and at opera festivals in Bari, Foggia, Arezzo, and at Operade Bauge in France.
On her return to the UK Nicola played in the Royal Liverpool Philharmonic Orchestra, the Ulster Orchestra in Belfast and the Scottish Ballet Orchestra. Nicola has played in the West London Sinfonia and was recently guest leader of the Thames Philharmonia. Nicola teaches piano, violin and singing at St Catherine's School in Twickenham and piano at St James's School, Ashford. She also teaches privately in her own home. She is organist and director of a 20-strong church choir in Addlestone and runs Music Time for under 5s in Chiswick.