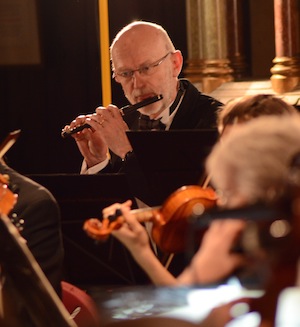 We aim to be London's friendliest orchestra, and we always give new members a warm welcome. There are no formal entry requirements, and we don't audition unless there is excess demand for an instrument. We expect a minimum playing standard of Associated Board grade 6 or equivalent. If you want to give us a try but aren't sure, you are very welcome to join in rehearsals for a few weeks to see how you like it, with no obligation. We'd be particularly delighted to hear from violinists. Please get in touch using the form below.
When?
We rehearse on Monday evenings, from 7.30pm until 9.45pm. Then some of us go to The Rising Sun on London Road, corner of Wood Lane, TW7 5AQ.
Where?
Rehearsals take place at St Mary's Church, Osterley Road, Isleworth TW7 4PW, which is a ten minute walk from Isleworth train station or Osterley tube station.
Music?
We play a wide range of music. Typically we will open a concert with an overture, followed by a concerto, often with a guest soloist, then play a symphony in the 2nd half.
Fees?
Full annual fee £200, over 60s £155, students £75 (or £25 per term).
Concerts?
Concerts usually take place at St Mary's, where we rehearse. Gents wear black tie, ladies all black. Our "season" consists of concerts in November, March and July.
Vacancies?
| | |
| --- | --- |
| Instrument | Vacancies |
| Flute/piccolo | Sorry, no |
| Oboes and cor anglais | Yes |
| Clarinets | Please enquire |
| Bassoons | Yes |
| Horns | Yes |
| Trumpets | Please enquire |
| Trombones | Yes |
| Tuba | Yes |
| Violins | Yes |
| Violas | Yes |
| Cellos | Sorry, no |
| Double Basses | Yes |
| Timpani/percussion | Yes |
Other instruments (bass clarinet, contrabassoon, harp, extra percussion etc) are engaged on a per concert basis as required. If you play anything unusual and are interested in being on our "fixer's list", please get in touch.
Use this form to let us know if you are interested in joining, or just want to know more, without obligation: