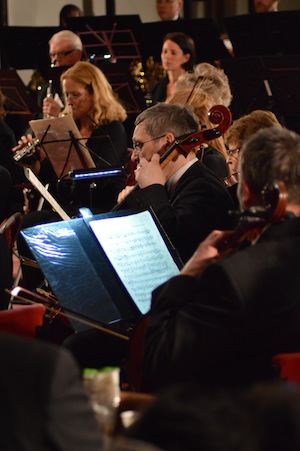 The players with HSO range in experience from ex-professional to having played in youth orchestras many years ago. They are from all walks of life and include a research scientist, a postman, a student, a professor, a television executive, several teachers, several NHS workers and a retired member of the Coldstream Guards.
Most have been playing music for much of their lives. French horn player Iwan Thomas, the orchestra's only current ex-professional, decided in his mid-20s that a music career wasn't for him. He didn't play again for 15 years until he joined HSO. Isobel Crane, a retired Ealing Hospital staff nurse, had wanted to become a professional oboe player, but her parents refused to allow her to go to music college.
Others learned to play music later in life. Charles Bartlett hadn't touched a violin since he left school and took it up again at 40. He says: "I was having one of those conversations with friends after a few drinks about whether we had any regrets, and my only regret was that I'd stopped playing. My wife then bought me a violin and got me lessons, and my teacher persuaded me to join HSO to improve." Ten years on, he says: "It is such a rewarding thing to do. When you're part of an orchestra and playing, say, Beethoven's 6th Symphony, at that moment nothing else matters".
The longest serving player is trumpeter Tony Yates-Watson who joined in 1970. Tony says: "The trumpet is very physical; when you come back from work and practise it really takes your mind off everything, it's good for you." It is also a tremendous intellectual challenge. "Playing music is difficult, and we are amateurs; we don't have five hours a day to practise like the professionals, and so it is really wonderful when after several weeks of rehearsals it starts to come together".