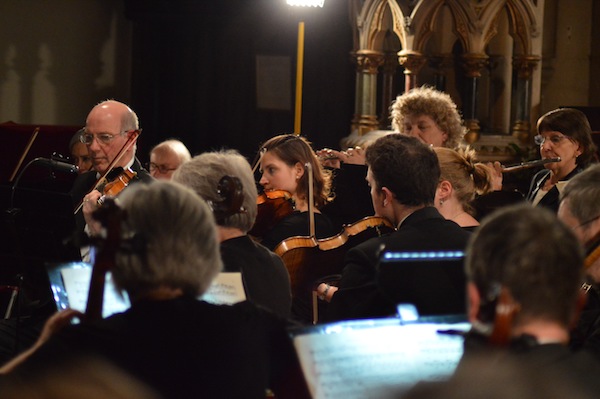 The orchestra was founded in 1954 by the London Borough of Hounslow under the conductor Robert Wilson, then professor of conducting at the Guildhall School of Music and Drama. Its opening concert was performed to "an enthusiastic audience," according to archive notes by founder member Harold Mayes, in December of that year in Cranford. There were two soloists; the eminent soprano Elsie Suddaby who sang arias by Mozart and Handel, and Dr Donald Hughes who played Schumann's A minor Piano Concerto. The orchestra also played Brahms Symphony No 1 in C minor. Since then the orchestra – until 1977 known as Heston and Isleworth Symphony Orchestra – has performed a total of around 200 times. It celebrated its 60th season in 2014 with a special anniversary concert which included Elgar's Symphony No 1 and the world premiere of The Tongs and The Bones by the British composer John Woolrich.
The orchestra been led by 11 conductors; following Robert Wilson were Thomas Daly, Ivor Kennaway, Robin Page, Nicholas Wilkes, Rob Spigelman, Rhonda Kess, James Burton, Martin West, John Andrews and Scott Wilson with Olsi Qinami taking up the post in January 2017. Martin West is now principal conductor of the San Francisco Ballet and James Burton is now one of the UK's leading choral conductors.
The orchestra has helped to launch the careers of soloists, including the clarinetist Michael Collins, who is the most frequently invited wind soloist to the BBC proms, and David Hooper, who has performed at the Glastonbury festival with his bassoon trio Wind Power.
Highlights
Highlights over the years include a son et lumière performance of Tchaikovsky's 1812 Overture with a back drop of flame effect lighting and, as per the score, the sound of firing cannons.  A tour to Lyon in 1999 to perform Elgar's Cello Concerto with the soloist Joseph Crouch is cited by several in the orchestra as their favourite HSO performance, and was followed by a return trip by the Orchestre National de Lyon the following year.
In 2012 the orchestra was commissioned by the National Trust to perform in the sumptuous 16th century hall at Osterley House at the opening of an exhibition on the use of Britain's historic properties in the movies. This coincided with the release of The Dark Knight Rises in which Osterley House was used as the set for Wayne Manor.
There have been some funny moments too.  Horn player Vijita Nikapota, a radiologist, almost missed a concert after he was suddenly called into work at Barnet General Hospital; he made it back to the venue with seconds to spare having missed the final rehearsal. At another concert, after the conductor changed the start time to half an hour earlier than usual, two violinists stayed too long in a restaurant. Richard Jones, remembers: "We got the church and discovered that everybody was waiting, and we ran up the aisle to a round of applause from the audience!"